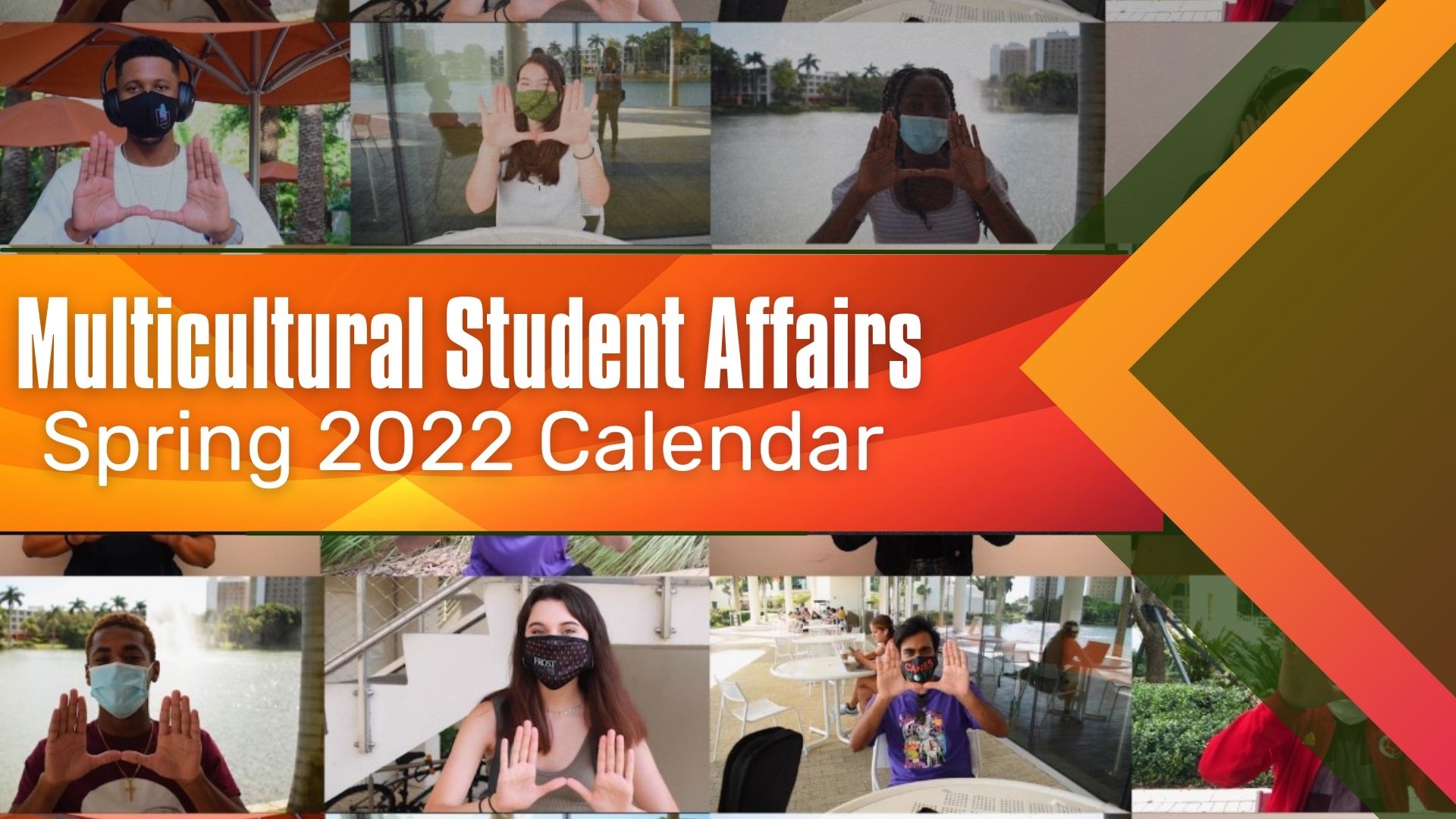 Download the Spring 2022 Events Calendar
Please visit the University's dedicated COVID-19 site, which can be found at coronavirus.miami.edu for the most up-to-date source of information regarding the University's response to the COVID-19 pandemic.
Interested in Collaborating? 
If you are a member of the UM faculty and/or staff are interested in collaborating any of our scheduled programs or events, please contact us at msa@miami.edu.
| | | | | |
| --- | --- | --- | --- | --- |
| Event Title | Date | Time | Location | Registration |
| Black Student Leadership Caucus Meeting | January 24th | 6:30pm | Zoom | Register |
| MSA Crew Retreat | January 31st | 6:00pm  | Zoom | Register |
| Latin Leadership Council | February 7th | 6:00pm | Zoom | RSVP |
| Culture Pop-Up | Black Awareness Month | February 8th | 12:00pm  | Lakeside Canopy | N/A |
| MSA Real Talk  | February 22nd | 6:00pm | Zoom | Register |
| Life Skills Leadership Program | February 23rd | 6:00pm | Zoom | Register |
| Black Student Leadership Caucus Meeting  | February 28th | 6:30pm | Zoom | Register |
| Culture Pop-Up | March 1st | 12:00pm  | Lakeside Patio | N/A |
| Difficult Dialogue: The Gender Wage Gap | March 3rd | 6:00pm  | SCC Activities Room North | N/A |
| Students of Color Symposium | March 5th | 9:00am | Lakeside Pavillion | Register |
| Latin Leadership Council | March 7th | 6:00pm | TBD | RSVP |
| MSA Real Talk | Rap & Capitalism | March 8th | 6:00pm | Zoom | Register |
| Black Student Leadership Caucus | March 28th | 6:30pm | Zoom | Register |
| MSA Crew Retreat | New Leaders | March 31st | 6:00pm | TBD  | Register |
| Latin Leadership Council | April 4th | 6:00pm | Zoom | RSVP |
| Culture Pop-Up | April 5th | 12:00pm | Lakeside Patio | N/A |
| MSA Brave Spaces | April 20th | 6:00pm | Zoom | Register |
| MSA Real Talk | The Sunken Place | April 21st | 6:00pm | SCC Activities Room North | N/A |
| Black Student Leadership Caucus | April 25th | 6:30pm | Zoom | Register |
| Life Skills Leadership Program w/ Camner Center | April 26th | 6:00pm | Zoom | Register |
| Latin Leadership Council | May 2nd | 6:00pm | Zoom | RSVP |
| Senior Mwambo Ceremony | May 10th | 11:00am | Shalala Center Ballrooms | Register |