Please visit the University's dedicated COVID-19 site, which can be found at coronavirus.miami.edu for the most up-to-date source of information regarding the University's response to the COVID-19 pandemic.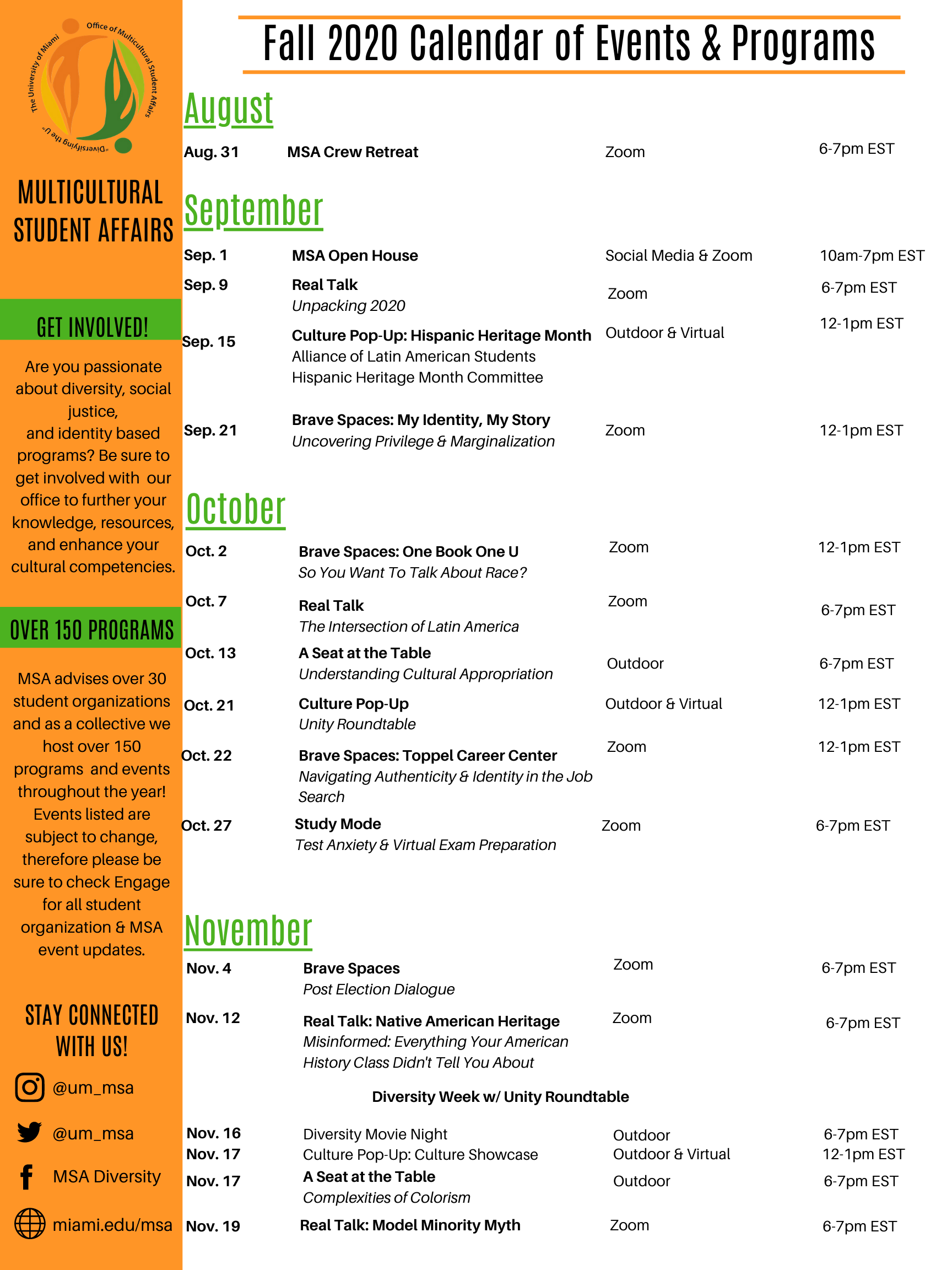 Interested in Collaborating? 
If you are a member of the UM faculty and/or staff are interested in co-facilitating any of our scheduled sessions, please contact Mr. Christopher Clarke (caclarke@miami.edu) or Ms. Kennedy Robinson (kbrobinson@miami.edu). 
Event Title
Date
Time
Location
Registration
Brave Spaces: So you Want to Talk About Race? One Book One U
October 2nd
12:00pm EST
Zoom
Register Here
Real Talk: The Intersection of Latin America
October 7th
6:00pm EST
Zoom
Register Here
A Seat at the Table: Understanding Cultural Appropriation
October 13th
6:00pm EST
Zoom
Register Here
Culture Pop-Up: Unity Roundtable
October 21st
12:00pm EST
Outdoor & Virtual
Register Here
Brave Spaces: Navigating Authenticity & Identity in the Job Search (Toppel Career Center)
October 22nd
12:00pm ES
Zoom
Register Here
Study Mode: Test Anxiety & Virtual Exam Preparation 
October 27
6:00pm EST
Zoom
Regiser Here
Brave Spaces: Post-Election Dialogue
November 4th
6:00pm EST
Zoom
Register Here

Real Talk: Native American Heritage 

Misinformed: Everything Your American History Class Didn't Tell You About

November 12th
6:00pm EST
Zoom
Register Here
Diversity Movie Night
November 16th
6:00pm EST
Outdoor
Culture Pop-Up: Culture Showcase
November 17th
12:00pm EST
Outdoor & Virtual
Register Here
A Seat at the Table: Complexities of Colorism
November 17th
6:00pm EST
Zoom
Register Here
Real Talk: Model Minority Myth
November 19th
6:00pm EST
Zoom
Register Here