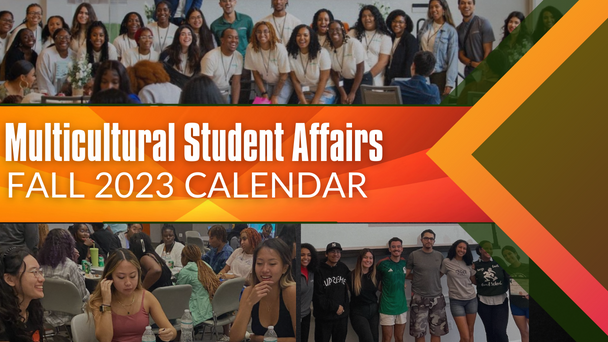 Are you passionate about diversity, social justice, and identity-based programs? Here are a few opportunities to get involved with our office to further and enhance your knowledge, resources, and cultural competencies. 
Interested in Collaborating?
If you are a member of the UM faculty and/or staff are interested in collaborating in any of our scheduled programs or events, please contact us at msa@miami.edu.
| Event Title | Date | Time | Location | Register |
| --- | --- | --- | --- | --- |
| | August 15 | 10 a.m. | Shalala Center Ballrooms | |
| MSA Open House | September 8 | 3 p.m.  | UC 2300F | |
| MSA Crew Retreat | September 13 | 5:30 p.m. | Shalala Center Ballrooms | TBD |
| | September 15 | TBD  | TBD | N/A |
| Enough Kick-Off | September 20 | TBD | TBD | |
| MSA Real Talk  | September 27 | 6 p.m. | UC 2300F | |
| Culture Pop-Up | Filipino American Heritage Month | October 11 | Noon  | Lakeside Patio | N/A |
| MSA Real Talk  | October 18 | 6 p.m. | UC 2300F | |
| Enough | October 19 | 11:30 a.m. | TBD | |
| | November 1 | TBD | Lakeside Patio | |
| Enough | November 9 | 11:30 a.m. | TBD | |
| | November 13 | Noon | Lakeside Patio | N/A |
| MSA Brave Spaces | November 14 | 6 p.m. | Zoom | |
| Test-Taking and Final Exam Prep | November 30 | 6 p.m. | TBD | TBD |
| Finals Study Snack Bar Kick-Off  | December 4 | N/A | UC 2300F | |