PIECES OF ME: INTERSECTIONAL TAKE ON DIVERSITY
The Office of Multicultural Student Affairs and Unity Roundtable Consortium hosts four days of programming, "Pieces of Me: Intersectional Take on Diversity", aimed at celebrating and starting conversations around equity, inclusion, transgender lives, and more.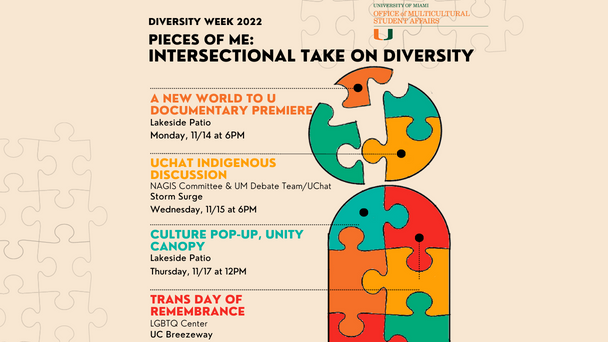 The Office of Multicultural Student Affairs (MSA) in partnership with Unity Roundtable Consortium will host Diversity Week from Monday, November 14-17 featuring daily programming designed at celebrating every identity and driving thoughts and dialogue about diversity and inclusion at the University of Miami and beyond.
Supported by the campus-wide mission to increase a "Culture of Belonging", this year's theme is titled, "Pieces of Me: Intersectional Take on Diversity". The week will be filled with in person, informative and synergetic events that are open to student, faculty and staff.
Diversity Week Schedule of Events 
Event Title

Date

Time

Organization(s)

Location

A New World to U | Documentary Premiere

November 14

6 p.m.

MSA Productions

Lakeside Patio

UChat Indigenous Discussion

November 15

6 p.m.

 Indigenous Heritage Committee

UM Debate Team

UChat

Storm Surge

Culture Pop-Up | Unity Canopy

November 16

Noon 

Student Life

Lakeside Patio

Trans Day of Remembrance

November 17

Noon

LGBTQ Center

UC Breezeway
Hosting an event during Diversity Week?
If you are a member of the UM community and have events celebrating Diversity Week, please complete this survey form below to have your events added to the Diversity Week calendar.  
If you are interested in working with Unity Roundtable Consortium  and MSA to assist with planning Diversity Weeks events, or you would like information on becoming a sponsor, please contact MSA at (305) 284-2855 or msa@miami.edu.