Black Awareness Month (BAM) is coordinated by United Black Students (UBS) and is chaired by the 2nd Vice President of UBS. The month is filled with a variety of special events that commemorate the extraordinary historical achievements and contributions of the African Diaspora. Black History Month began as "Negro History Week," which was created in 1926 by Carter G. Woodson. It became a month-long celebration in 1976. The month of February was chosen to coincide with the birthdays of Frederick Douglass and Abraham Lincoln.  
Black HERstory Month 2021
The Black Awareness Month (BAM) committee serves to engage the entire university community surrounding Black culture, Black contributions, and Black historical figures. Specifically, the 2021 Black Awareness Month committee has unanimously selected the theme to be Black HERstory Month. This theme was chosen to highlight the immeasurable impact of Black female figures whose hidden and often untold stories have made our own stories possible. This Black Awareness Month, we speak, honor and celebrate the names of Black women everywhere who are our everyday superheroes." - 2021 BAM Committee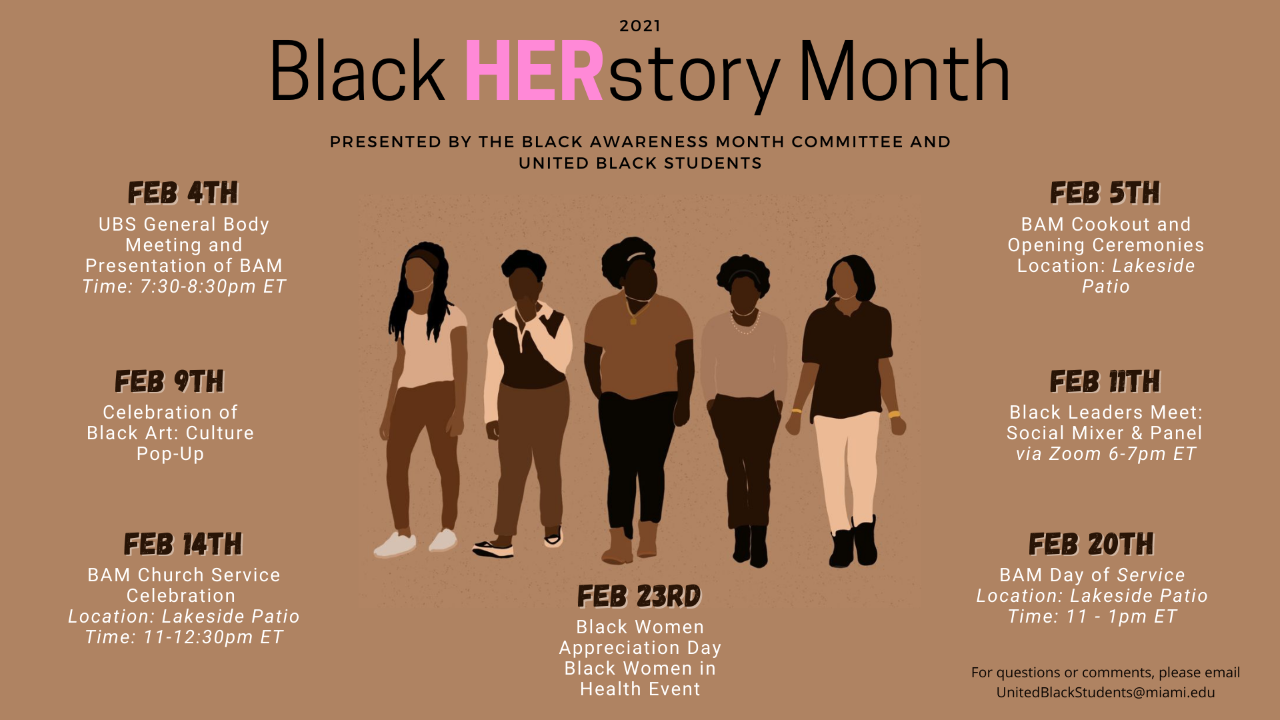 BAM Schedule of Events
| | | | | | |
| --- | --- | --- | --- | --- | --- |
| Event Title | Date | Time | Organization(s) | Location | Registration |
| UBS General Body Meeting | February 4th | 7:00pm EST | UBS/BAM | Zoom | |
| BAM Cookout | February 5th | 6:00pm EST | BAM | Foote Green | Register Here |
| Culture Pop-Up: Buying Black/Black Art | February 9th | 12:00pm EST | BAM/Unity Roundtable | Lakeside Patio | Register Here |
| Black Student & Faculty Mixer/Panel | February 11th | 6:00pm EST | BAM | Zoom | Register Here |
| BAM Church Service | February 14th | 11:00am EST | BAM | Lakeside Patio | Register Here |
| BAM Day of Service | February 20th | 11:00am EST | BAM | Lakeside Patio | Register Here |
| Black Women in Health (Black Women Appreciation Day) | February 23rd | 6:00pm EST | BAM | IM Field | Register Here |
Hosting an event during Black Awareness Month? 
If you are a member of the UM community and have events celebrating Black Awareness Month, please complete this survey form below to have your events added to the BAM calendar.  
If you are interested in being a part of the committee and would like to help plan one of the events, or you would like information on becoming a sponsor, please contact MSA at (305) 284-2855 or msa@miami.edu.