'Canes Summit for Leadership, Diversity and Social Change is a two-day leadership and diversity conference for University of Miami students, which seeks to increase awareness of self through the lens of identity, leadership and social change. 'Canes Summit provides an opportunity for personal growth, knowledge acquisition, and skill development through, group activities, interactive workshops and a panel discussion with local community leaders. The conference focuses on relevant issues students face as leaders at the University of Miami, in their communities, and in society.
Through these sessions, current and emerging UM leaders will cultivate skills that can benefit them in all aspects of life. This invigorating summit will provide an invaluable platform from which community leaders, professors, and professionals will disseminate ideas and expertise that will enable UM students to develop new skills and grow as a leader.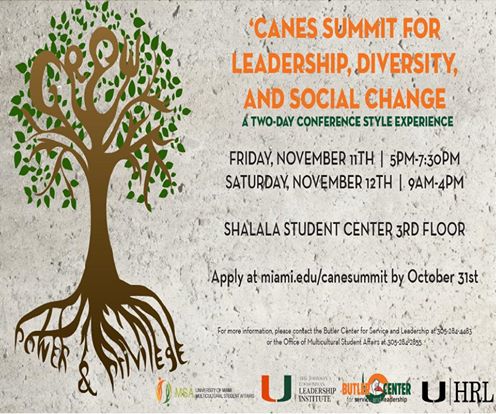 Rooted in the mantra that the only way to live is through growth, Canes Summit 2016 provides students two-days of leadership, identity, diversity, and social justice activities and speakers that provoke self-reflection and motivation to grow as an agent for positive change in one's community and life. Participants are encouraged to focus on four target outcomes throughout the summit that they will then hopefully carry with them to their daily lives.
To enhance understanding on one's identity and its relationship to individual leadership
To identify and develop solutions to address social issues in the local community
To foster connections with local professional change agents in diverse career paths
To empower students to use their voice to speak out against social injustice